3rd: February 13-14, 2021
2021 Fukushima Medical University International Symposium on the Fukushima Health Management Survey
Our 3rd International Symposium on the Fukushima Health Management Survey convened on February 13 and 14, 2021, and was participated by current or former residents of Fukushima Prefecture, health care workers, students, administrators, etc.
Theme
10 years and beyond with the Fukushima Health Management Survey: What needs to be done to enhance the resilience of Fukushima's people?
Date / Venue
February 13(SAT)-14(SUN), 2021
The Celecton Fukushima
* live-streamed via YouTube(closed)
Nominal support from:
Fukushima Prefecture, Hiroshima University, Nagasaki University, Fukushima University, The University of Aizu, National Institute of Radiological Sciences, Radiation Effects Research Foundation
Japanese Government's Cabinet Office; Reconstruction Agency; Ministry of Foreign Affairs; Ministry of Education, Culture, Sports, Science and Technology; Ministry of Health, Labour and Welfare; Ministry of Economy, Trade and Industry; Ministry of the Environment; Secretariat of the Nuclear Regulation Authority
Fukushima Medical Association, Fukushima Hospital Association, Fukushima Nursing Association, Fukushima Association of Radiological Technologists, Fukushima Society of Certified Clinical Psychologists, Fukushima Association for Psychiatric Health and Welfare
Fukushima-Minpo and Fukushima Minyu Newspapers, NHK Fukushima, Fukushima Television Broadcasting, Fukushima Central Television, Fukushima Broadcasting, TV-U Fukushima, Radio Fukushima, FM Fukushima
In cooperation with:
International Atomic Energy Agency, International Committee on Radiological Protection, UN Scientific Committee on the Effects of Atomic Radiation, World Health Organization
Audience
Fukushima residents, health care/medical professionals, students, public employees

Event report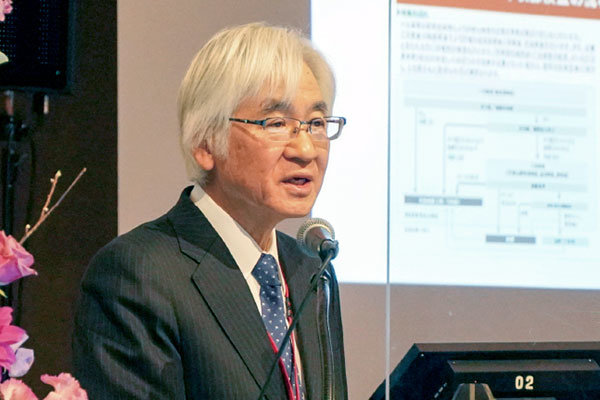 Our 3rd International Symposium on the Fukushima Health Management Survey convened for 2 days. In contrast to previous years, only Fukushima Medical University staff, some domestic speakers, and media representatives were physically present at the venue. Online participation was arranged in response to the coronavirus pandemic. Thus, while our intended audience included Fukushima residents, healthcare providers, students, administrative professionals, and other stakeholders, on-line distribution enabled a wider, global audience.
Due to a substantial earthquake originating off the Pacific coast of Fukushima on the night of DAY 1 February 13, some speakers intending to be at the venue participated on-line. Thanks to everyone's cooperation, the program was successfully completed even with such unexpected circumstances. We sincerely extend our gratitude.
At the event, Executive Director KAMIYA Kenji, along with other doctors and researchers from FMU and cooperating institutions, presented the results of the Fukushima Health Management Survey and related analyses and findings.
Six invited experts from overseas offered their perspectives online. Residents dedicated to the recovery of Fukushima and FMU students added their experiences and thoughts. Lively discussions addressed questions submitted from online participants. Even with such a successful event, not all questions could be answered in the allotted time, but those questions will guide our communication efforts between now and the next symposium.
Event program and presentation summaries are here.
The English version of our 2021 international symposium report has been completed. This is a compilation of summaries of the keynote lectures, presentations, and discussions held during the two-day symposium. Click here for the PDF of the report (There is no print version).
As we continue to play a role in the revitalization and reconstruction of Fukushima by watching over the health of our residents, the Center, as part of a healthcare system, will endeavor to help people better understand their individual and community circumstances by disseminating results and lessons learned from the Fukushima Health Management Survey as simply and clearly as possible, but always based on science.