The International Symposium of Radiation Medical Science Center of Fukushima Medical University
The first international symposium was held to disseminate the latest information on the Fukushima Health Management Survey both domestically and internationally in preparation to build back better from the Great East Japan Earthquake which occurred on March 2011 and the TEPCO's Fukushima Daiichi Nuclear Power Plant accident.
Theme
Build Back Better: from the World to Fukushima, from Fukushima to the World
Date / Venue
January 14(MON)-15(TUE)
The Celecton Fukushima
In cooperation with
Fukushima Prefecture, World Health Organization, Hiroshima University, Nagasaki University, Fukushima University, University of Aizu
Audience
Fukushima residents, health care/medical professionals, students, public employees, etc.
Event report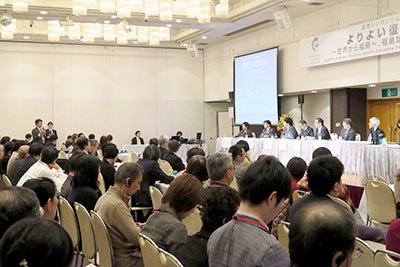 This was the first international symposium solely organized by our Center. The symposium focused on public health and risk communication, with the participation of interdisciplinarily inviting distinguished reserchers from WHO, Singapore, Malaysia, Norway, and South Korea.
The first day opened with Opening Remarks by TAKENOSHITA Seiichi, President of Fukushima Medical University. In the Plenary Session 1, Dr. KAMIYA Kenji, Executive Director, FMU Radiation Medical Science Center for the Fukushima Health Management Survey, gave a report on the efforts and prospects of the Fukushima Health Management Survey under the title of "Update on the Fukushima Health Management Survey and Proposed Issues." Furthermore, various initiatives in the field were shared. Mr. KOHATA Hiroshi, Mayor of Fukushima City, gave a presentation titled "Approaches to reconstruction from the disaster." And Ms. KANNO Kuni, a public health nurse of Iitate Village, gave a presentation titled "Living in Iitate Village which became village-wide evacuation area-What have learned through six-year evacuation."
On the second day, experts from Japan and abroad continued to report on their research findings. In total, 16 presentations were made over the two days, covering a wide range of topics including Thyroid Ultrasound Examinations, mental health, Pregnancy and Birth Survey, maternal research, and risk perception. The participants asked questions a lot at the "Discussion" on each of two days. Through the question-and-answer session, participants gained more insights about "Build Back Better."
(Please refer to the flyer for the program details and the title of each presentation.)