Thyroid Ultrasound Examination
Implementation status
Outline of the Thyroid Ultrasound Examination (TUE)
Purpose
One of the health problems caused by the Chornobyl (Chernobyl) nuclear power plant accident was thyroid cancer in children caused by internal exposure from radioactive iodine. Although the exposure level in Fukushima Prefecture caused by the nuclear accident in 2011 is considered to be much lower than in Chornobyl, we launched a Thyroid Ultrasound Examination program to address long-term health concerns by understanding the condition of children's thyroid glands.
Eligible persons and Progress of the TUE
Survey category
Implementation Period
Eligible persons
Preliminary Baseline Survey (the first-round survey)
Aiming to check the baseline condition of participants thyroid glands
From October 2011 through March 2014
Fukushima Prefecture residents who were born between April 2, 1992 and April 1, 2011, i.e., in the range of 0 to 18 years old as of March 11, 2011.
First Full-Scale Survey (the second-round survey)
For comparison with the Preliminary Baseline Survey
From April 2014 through March 2016
Fukushima Prefecture residents who were born between April 2, 1992 and April 1, 2012
Second Full-Scale Survey (the third-round survey) and after
Eligible participants are invited to receive thyroid examinations every two years until the age of 20, and then every five years thereafter at the age of 25, 30, and so on.(The interval before the Age 25 Survey should not be more than 5 years.)
Due to the COVID-19 pandemic, the Fourth Full-Scale Survey (the fifth-round survey) will be conducted over 3 years from 2020 through 2022.
Method
Primary examination
Ultrasonography
Confirmatory examination
Advanced ultrasonography, urine, and blood test
Fine-needle aspiration cytology (FNAC) is conducted, if needed.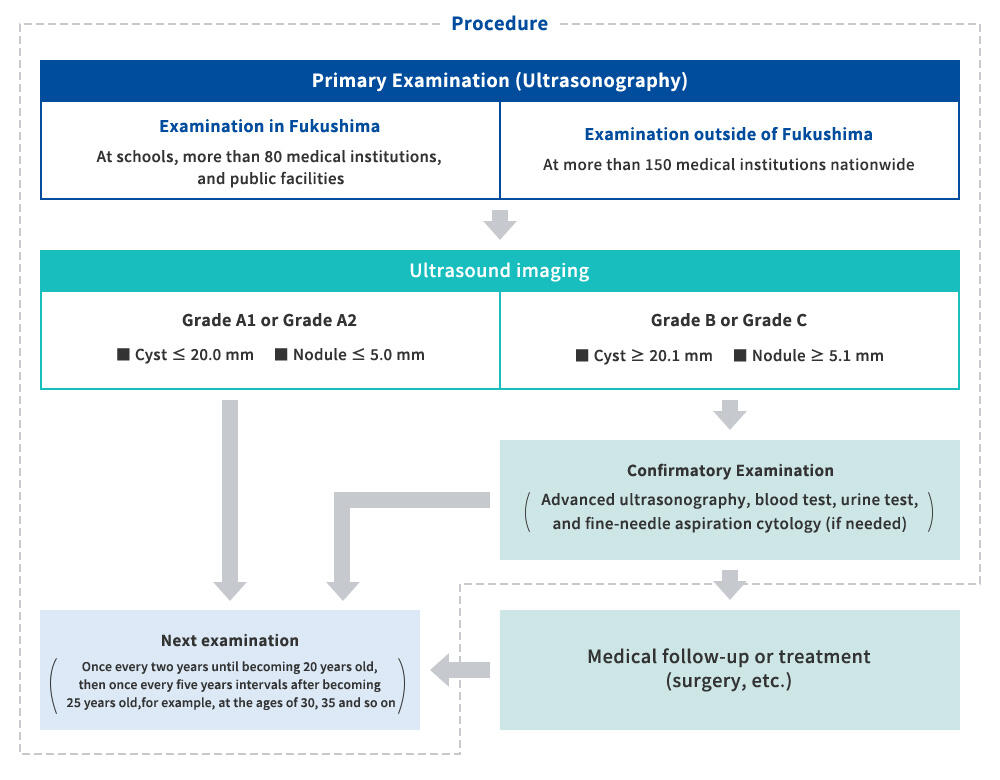 Diagnostic criteria of Primary Examination
Grade
Criteria
Next step
A
No abnormal findings
A1
No cysts or nodules
Undergo another primary examination 2 (or 5) years later
A2
Nodule(s) with a diameter of 5.0 mm or less* or cyst(s) with a diameter of 20.0 mm or less
B
Nodule(s) with a diameter of 5.1 mm or more or cyst(s) with a diameter of 20.1 mm or more
Undergo a confirmatory examination
C
Cases considered as requiring detailed examination**
Undergo a confirmatory examination immediately
* Some nodules that are 5.0 mm or less in diameter may be judged as Grade B based on ultrasound images.
** Cases in which thyroid nodules are suspected to have infiltrated non-thyroidal tissues or a large lymph node metastasis (Large N) of 3 cm or more is observed
Implementation criteria of FNAC in Confirmatory Examination
Nodules are treated in accordance with the Guidebook on Thyroid Ultrasound Diagnosis (edited by the Japan Association of Breast and Thyroid Sonology).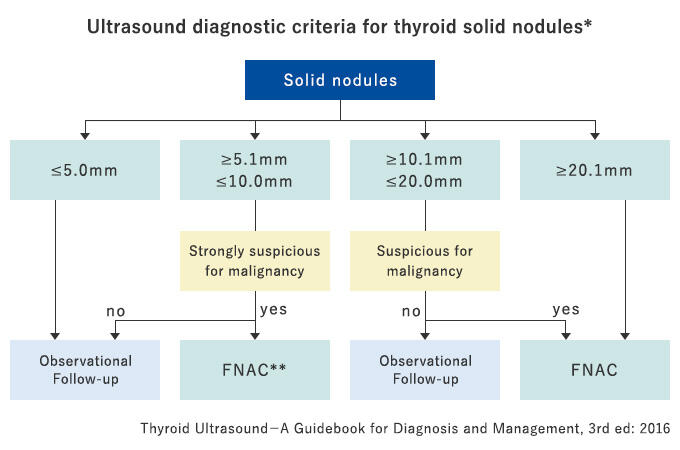 *Nodule without cystic characteristics
** FNAC: Fine-needle aspiration cytology